Color! Some things moved in, some decorating going on....lots of chaos in closets, the basement and garage 'til I learn how to place things within so much more SPACE!! So far I have pretty well eliminated the traditional, sophisticated country colour palette the previous owner had used. Working more modern/vintage pieces into the arts & crafts style architecture is a challenge but I love how it works together!
The kitchen has become my favorite room. It was a grey green that I had thought I may keep but last minute decided to pull a color from a vintage apron and go with a bold, lobster coral. I still need to paint the green parts of the mobile island, but I'm pretty happy with how the color pulled in all the various vintage linens I'd had stashed away!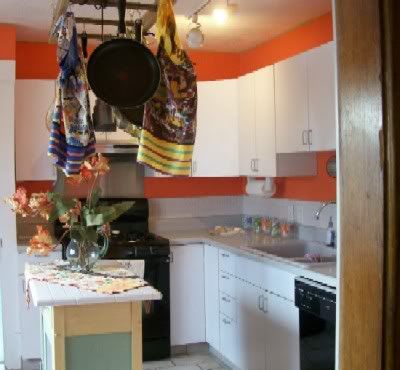 A newer bay window installed in the kitchen really brings in great southern light and makes me actually want to spend time there (my last place had a galley kitchen with no natural light...hated it). This is a plaster figural lamp base I got a few years ago with a venetian shade (needs wired still)....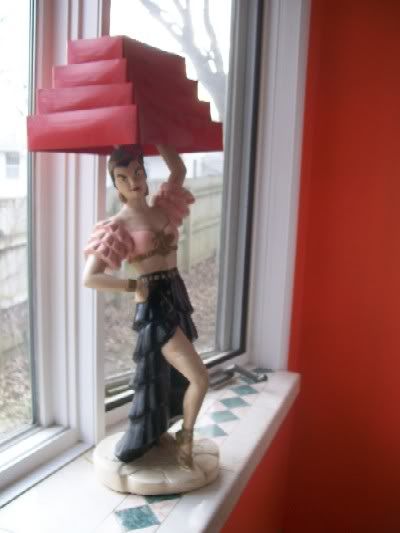 The dining room is a tough room, working with a late 60s uber mod dining set in bright yellow and crisp white! Add to that a wall of heavy wood built ins, a Home Depot-esque arts & crafts ceiling lamp and a wall that had been covered in burlap and painted in a country motif. The wall.....the wall is bad. I pulled away the burlap and exposed 40s wallpaper (which looked gorgeous at one point), covered in mottled dried adhesive and bare plaster in many places (holes too). I'm not sure what the plan is there yet! But with the dining set and rug I'm liking the effect, can't wait for my new curved birch wood pendant lamp to come! The far wall is the same blue as the living room to pull the color through from room to room, and the tree print fabric wall hanging will go on the burlap-free wall when its done.
One corner of the dining room becomes a record listening "nook" with space age chair and 50s TV cabinet for the stereo....
Living room was difficult as far as placing all 4 pieces of the sectional, but it worked out beautifully. The fireplace mantle will end up boxed in with a more Danish Modern-friendly structure, cleaner lines and a cherry or teak. I think I may replace the dark rug with a light shag like the dining area as the wood floor is darker than my old place!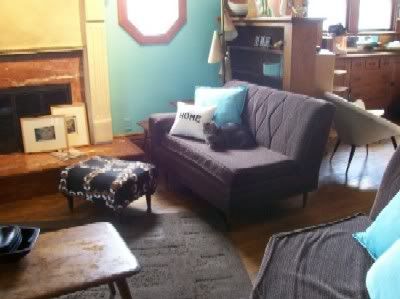 A shot of living room to dining to kitchen. I love the bright color with the woodwork!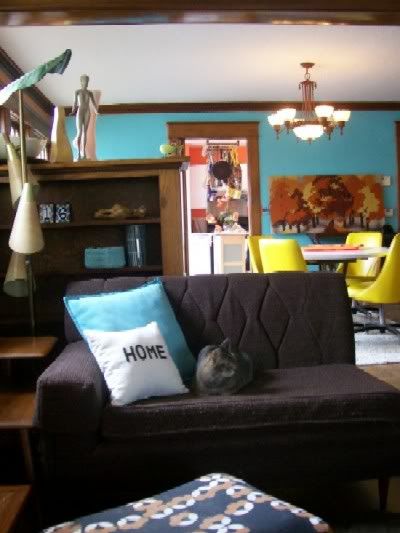 My bedroom was a country blue with a full on gingham country motif...now replaced with kiwi green and 40s asian chalkware pieces and asian print textiles in black, red and aqua with the same green...its coming together slowly!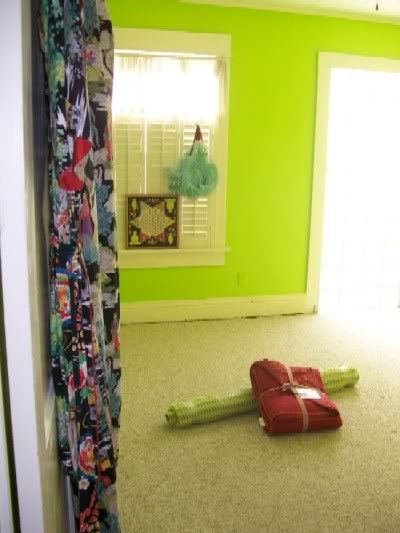 Hoping to get some outside pics soon!
~Ang